Only the finest quality hardwoods are used in our cabinet fronts.
Cabinet doors are constructed of ¾" thick hardwood stiles and rails with a 5/8" solid hardwood raised panel or matching veneered flat panels.
Each door is hand built to our own uncompromising quality standards. Only floating panel construction is utilized to assure stability. Every door is machine sanded to 180 grit before finishing.
Fully adjustable, self-closing, demountable, concealed clip hinges are standard on all our cabinets.
Face Frames are ¾" think solid hardwood for lifetime durability. Every frame is machine sanded for uniform dimension and consistent quality.
All drawers are dovetailed at all four corners for extra durability and strength.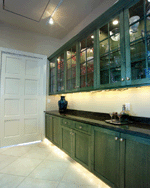 Every Morning Star cabinet goes through a five step finishing process fully protecting the solid wood cabinet fronts and drawers from moisture and household spills. Our finish exceeds all national kitchen cabinet standards and provides a lifetime of low maintenance beauty.
The interior is made of melamine laminated board for easy cleaning. The ¾" shelving is fully adjustable and matching veneer interiors are available in every species.
A long list of time and space saving accessories are available including lazy susans, pullout shelving, tray dividers, tilt out sink fronts, bread boards, cutlery trays, spice racks, pullout garbage units, and more!
Because we can build everything in house, your project will be tailor made to fit your own needs. Every inch of space can be utilized to its full potential. As well, you'll have no need to worry about your own measurements or design when you order through Morning Star. We guarantee all of work to fit into your space and can modify our construction methods to tackle any obstruction or fixture within the home. Do you require a unique finishing technique that you can't find elsewhere? Morning Star Woodworks are the experienced professionals for custom finishes like distressing, sand through or crackled finishes, and glazing. Your design will never be limited to stock dimensions or standard finishes.
Stop by our new showroom just south of Wal-Mart, Monday through Friday 9am-5pm to see what Morning Star can do for you.