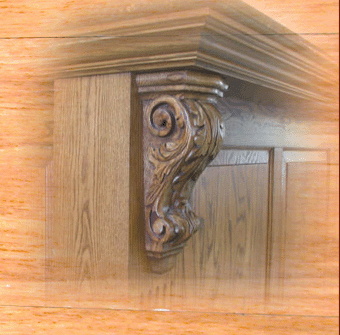 You work hard to provide the best product and service to your customer. Morning Star Woodworks understands that and wants to make you even better by providing the highest quality products at competitive prices. Not only will your job be easier, your customer's will be happier at what you can do for them.
Imagine the convenience of having defect-free, finished material delivered to your jobsite at prices well within your budget. With Morning Star as your cabinet and millwork specialist, we can provide color and specie matched cabinets, doors and trim right to your jobsite. You'll have no need to contact several separate suppliers, stain and finish materials on site, or worry about transporting the material to the job. We'll even work direct with your customer to handle the time consuming details and free you to continue doing what makes you money.

We offer a variety of suppliers of doors and trim as well as our own custom made mouldings, and you'll find our pricing to be more competitive than you think. Check out our supplier's websites from our Doors & Millwork page and check back here soon for more details and resources of what we can offer for you. Our contractor line is growing fast and we want you to see what other area builders are finding out to be one of the area's best-kept secrets.
If you are an area contractor or homebuilder we'd like to invite you in to see our operation and provide you with the necessary information to begin using our products. With quality, service, and location that are better than the rest, you can't lose. Use the contact form below or give us a call. We're waiting to make you shine.
Contact Us today for more details or call 218-879-1922!